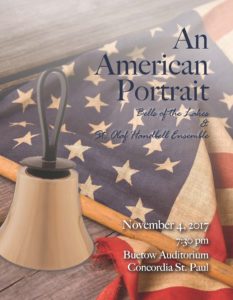 Join us on Saturday, November 4th, 2017 at 7:30pm for a combined concert featuring Aaron Copland's "Lincoln Portrait", performed by: Bells of the Lakes, St. Olaf Handbell Ensemble, and St. Olaf String Ensemble with guest narrator Dr. Tom Ries from Concordia.    To be held at  Concordia- St. Paul's Buetow Auditorium: 300 Hamline Ave, St. Paul, MN  55104.
TICKET INFORMATION:
Tickets are $25 – adult, $15 – student/senior (60+), $15 – group rate (10+ tickets).
Tickets are available for purchase at Will Call beginning at 6:30pm. Tickets purchased online after 10/31/17 will be available for pick up at Will Call.
All tickets are general seating.
Adult Tickets ($25.00 each)
Student/Senior Tickets ($15.00 each)
Group Tickets – 10 or more ($15.00 per ticket)
For assistance in placing your order, please contact tickets@bellsofthelakes.org.