Need a colorful pair of handbell gloves to perk up your rehearsals or performances?
Bells of the Lakes offers 100% cotton gloves, hand-dyed in a variety of colors, in sizes S, M, L and XL.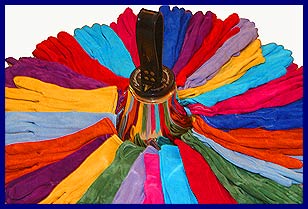 Handbell Gloves
100% cotton dotted gloves, hand-dyed, may be machine washed separately and machine dried.
Color availability varies and may not match the picture on our website.
Order 12 or more gloves and receive a 10% discount on your gloves. Colors and sizes may be mixed and matched.
Frequently Asked Questions about Handbell Gloves
Will the gloves shrink or bleed dye when I wash them?
They shouldn't.  The gloves are meticulously washed as part of the dying process to remove all excess dye and therefore are also preshrunk; however we do recommend washing them with similar colors just to be on the safe side.
Can I get gloves without dots or in extra small?
Yes,  by placing a custom order.   Bells of the Lakes does not keep gloves without dots or extra smalls of any color in stock.
Can I get black or white gloves?
Not from us.  Many handbell retailers offer white and black handbell gloves; hence, we do not.
How are your gloves shipped?
All orders are shipped at standard domestic carrier rates through USPS in the continental US.
Can I get them outside of the continental US, or by Express/Priority mail?
Yes,  please email us at shops@bellsofthelakes.org as soon as you place your order and we will electronically invoice you (through PayPal) for the additional postage and handling.
The color and/or size combination I want is a) not in the drop down menu or b) is out of stock. Can I still get them?

Yes, but not today.  Our inventory online is kept as accurate as possible.  You will need to place a custom order or wait until we restock our supply of gloves (about twice a year), but we don't always dye every color imaginable when we restock.  Best to place a custom order.

I have ordered some of your green gloves in the past. Our choir has grown or I need replacements and I'd like some more. Will the color of the new gloves match the old gloves?

Probably not.  Repeating a dye job to match the intensity and hue of a pair of gloves is extremely difficult due to variances in dye, water, temperature, amount of cotton, amount of salt, the batch of cotton, and dying time.  The only success we have in producing gloves that perfectly match is to dye them all at the same time in the same batch. We can get close in a custom order to a previous order, but it may be wise to order a few extra spares if it is very important that they perfectly match.

Do you accept returns or exchanges?

Generally, as a rule, we do not; especially, if the color intensity and hue isn't quite what you were expecting, but certainly matches the color description of what you ordered. If you have particular hue needs, say a deep vibrant red for that upcoming Christmas concert, we recommend a custom order at least two months in advance of your performance.

How do I place a custom order?

Email us at shops@bellsofthelakes.org to inquire. Custom orders will take about 6 weeks for volunteers to process.  There is a 12 pair minimum of any size combination per color dyed.  A $20.oo processing and handling fee will be included in all custom orders.